Over 2,500 Varieties of Orchids 
We offer beautiful and fresh orchids  for weddings, events and everyday special occasions.
We are OPEN this Fall for Walk-In customers Monday - Saturday 10:00AM until 4:00PM
We are NOT taking web orders at this time.

Riverwood Orchids in Durham NC will start taking mail orders January 2021 for the orchids they have purchased from the Orchid Trail.
John is Retiring!
We will no longer be taking web orders after Friday August 28th.
Greenhouses are open to walk in sells Monday thru Saturday 10:00AM to 4:00PM
20 % discount on walk in sales orchids and supplies
My personal orchid collection is up for private sales with quoted prices no discount
Greenhouses are for sale 30 x 96 ft includes heaters, fans, cool cells, benches, and shade cloth $4,200 (buyer must take down and move the greenhouses)
The Orchid Trail located in Morrisville, NC is open to the public with six thousand square feet of sales area and over 2,000 different orchid species and hybrids with 20,000 orchids in stock. The Orchid Trail was founded in 1999 by John Stanton who has a passion for growing, collecting and hybridizing orchids. We offer a variety of
orchid care services
including greenhouse rental space, 
orchid sales
,
potting services
, and
potting supplies
. Our team of three professional orchid growers always invite you to ask questions. Feel free to contact us with any questions regarding orchid culture and orchid care. Paul Feaver is our orchid species specialist and ; expert. Paul can help answer any of your questions relating to orchids or orchid sales. Sara Gallis is our Bulbophyllum specialist and lead orchid care grower.

While at Orchid Trail Greenhouses, save some time to visit our Private Collection. Our Private Collection has over 2,500 orchids from a wide range of genera. This is probably one of the largest private collections in North Carolina. Specimen plants of Dendrobiums, Cattleyas, and a wide variety of species predominate.



Open Monday thru Friday 10AM to 4:00PM Saturday 10:00AM to 4:00PM Closed Sunday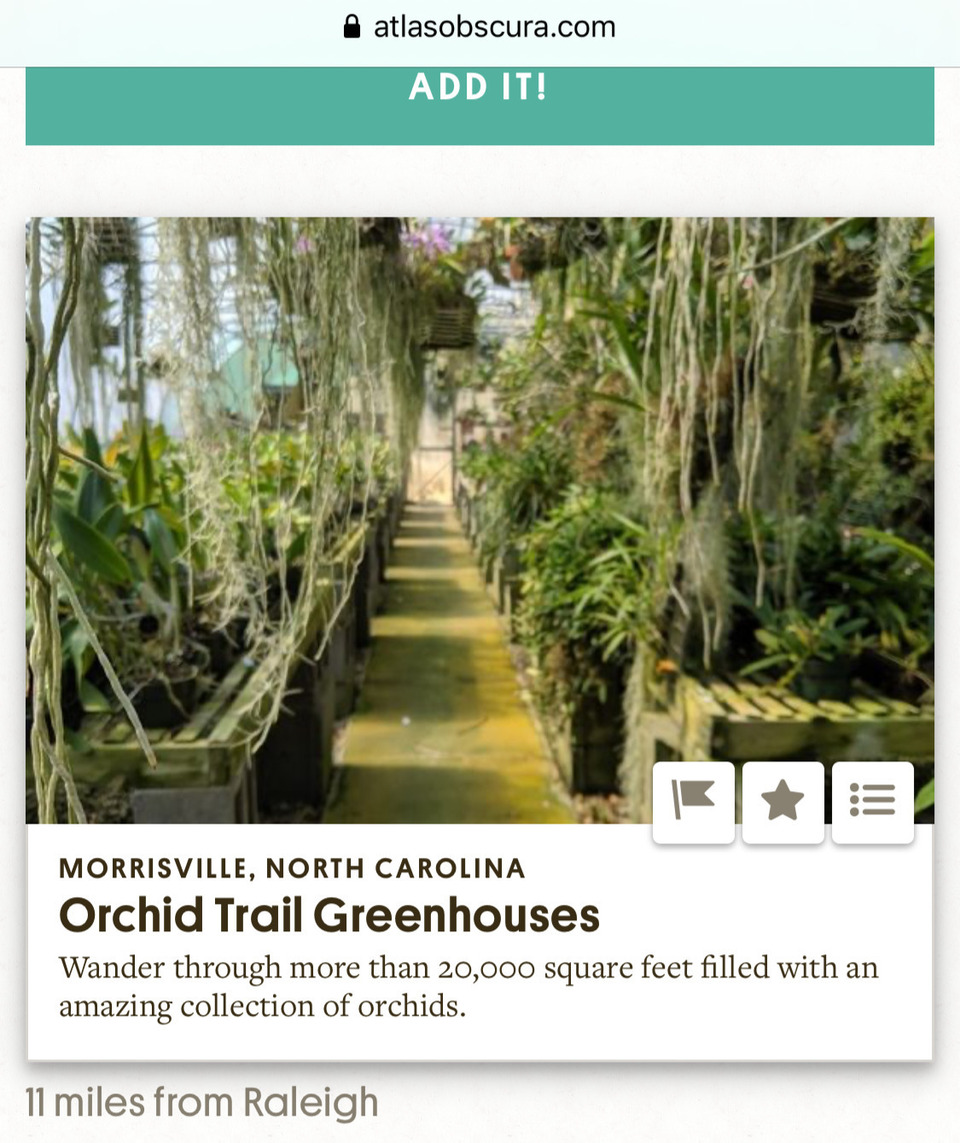 As Seen On Atlas Obscura's hidden attractions in Raleigh!
We offer a wide range of orchid species and hybrids along with orchid care services.
Orchid Sales
A diverse selection of species and hybrids from a wide range of genera at reasonable prices in our 6,000 sq. ft of sales which are open daily to the public & online orders
Orchid Care Services
We offer a full range of orchid cultural services and contact you when your plants are getting ready to bloom.
 
Be Sure to Check Out Our Special Offers!
Stay up to date on the latest Open House Events, Coupons, and other special offerings! 
Have a Question? Send Us a Message.
Use the form below to send us a message or give us a call today.